HP t730 Thin Client

The ultimate thin client.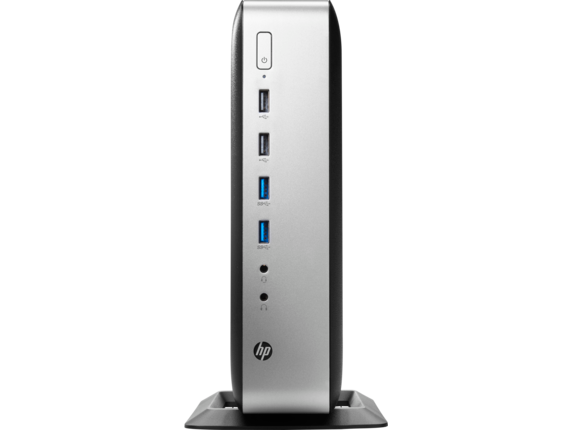 HP Systems Products
HP t730 Thin Clients
HP t730 Thin Client - 4GB/16FL TP TAA
#4RU47UT#ABA
Our Price: $585.00
HP t730 Thin Client - 4GB/16FL TP
#4RU50UT#ABA
Our Price: $587.00
HP t730 Thin Client - W10 8GR
#4FH40UT#ABA
Our Price: $741.00
HP t730 Thin Client - 8GB/64FL W7P
#4FH58UT#ABA
Our Price: $741.00
Overview:
Goodbye add-ons, extras, and optional features. The HP t730 Thin Client, the world's first thin client to drive quad UHD/4K displays natively, is ready to deploy in demanding environments right out of the box with an AMD quad-core1 processor, maximum interfaces, and OS and ISV choices.
The ultimate thin client.
HP ThinPro 32
16 GB Flash memory
Citrix ICA/HDX; Microsoft RFX/RDP; VMware Horizon View™ through RDP/PCoIP, and Blast Extreme Protocols are dependent on operating system installed
Features:
Premium performer
Harness the power of AMD's latest generation quad-core APU with Turbo Core technology that can throttle CPU action and kick it up to 3.6 GHz to run full VDI and local applications and render video to four displays.
Expand your view with quad displays
Create an efficient multi-monitor workspace with DisplayPort connections for up to four UHD/4K displays, or six displays with the discrete graphics card. Now you can enjoy a high pixel count, serious sharpness, and eye-popping details every day.
Integrated software sweetens the deal
Streamline deployments, enhance the user experience, and enable smooth device management with HP's exclusive thin client software: HP Device Manager, HP Velocity, and HP Easy Shell.
Plan ahead with expansive I/O connections
Support your business now and in the future with serial, parallel, PS/2, and USB ports plus a PCI Express x8 low profile expansion slot.
Featuring
Experience broadened support for unified communications (UC) solutions such as Skype for Business.
Make it easy to deploy, manage, and maintain your install base with HP Device Manager.
Brace yourself for breakthrough loss-less video and graphics presentation from the cloud with HP True Graphics6 software.
Improve wired and Wi-Fi network performance and the end user experience with HP Velocity software.
Simplify the HP Thin Client Windows Embedded user experience with HP Easy Shell's customized interface and protection for targeted cloud control.
Connect to any type of network with the standard RJ-45 interface or an optional Wi-Fi or Fiber Optic network adapter.
Access subscription-based software3 from the cloud with a preinstalled browser.
Choose the right operating system and ISV for your environment.
Specifications:
HP t730 Thin Client Specifications
Operating system
Windows 10 IoT Enterprise for Thin Clients
Windows Embedded Standard 7P
HP ThinPro
HP Smart Zero Core
Processor
AMD RX-427BB APU with Radeon™ HD 9000 graphics (2.7 GHz up to 3.6 GHz, 4 MB cache, 4 cores)
Storage
8, 16, 32, 64 or 128 GB MLC flash memory
up to 16 or 32 GB UMLC flash memory
Graphics
AMD FirePro™ W2100; AMD Radeon™ GPU
(AMD Radeon™ GPU integrated as part of the R-Series APU)
System Memory
Up to 16 GB DDR3L-1600 SDRAM
(Transfer rates up to 1600 MT/s)
Memory slots
2 SODIMM
Networking
Realtek GbE; Intel 802.11a/b/g/n/ac PCIe; Broadcom 802.11a/b/g/n PCIe; Allied Telesis AT-27M2/SC M.2 Fiber Fast Ethernet Network Interface; Allied Telesis AT-29M2/SC M.2 Gigabit Ethernet Network Interface
Audio
Internal amplified speaker system for basic audio playback
Display Support
Four DisplayPort 1.2 digital video outputs supporting up to 3840 x 2160 resolution. An optional AMD FirePro™ W2100 discrete graphics solution provides two additional digital video streams for a system total of six video outputs.
Input Devices
HP Keyboard
HP Mouse
Power
85 W, worldwide auto-sensing, 100-240 VAC, 50-60 Hz energy-saving automatic power-down, surge-tolerant
Environmental
Low halogen
Energy Efficiency Compliance
ENERGY STAR certified and EPEAT Gold registered configurations available
Input/Output
Front: 2 USB 3.0; 2 USB 2.0; 1 headset; 1 headphone/microphone
Back: 4 USB 2.0; 4 DisplayPort 1.2; 2 PS/2; 2 serial; 1 parallel; 1 audio line in; 1 audio line out
Inside chassis: 1 USB 3.0
Dimensions (W x D x H)
8.7 x 2.6 x 9.4 in
221 x 67 x 240 mm
(Vertical orientation)
Weight
2.29 lb
1.8 kg
(Weight varies by configuration)
Software
HP Device Manager; HP ThinUpdate; HP Easy Tools; HP Smart Zero Client Services; Microsoft SCCM/EDM Agent; HP Velocity; HP Easy Shell; HP True Graphics
Protocols
Microsoft RFX/RDP; Citrix ICA/HDX; VMware Horizon RDP/PCoIP
(Protocols are dependent on operating system installed)
Browser
Microsoft Internet Explorer 11 (for models with Windows Embedded Standard 7P and Windows 10 IoT for Thin Clients); Mozilla Firefox 19 (for models with HP Thin Pro and HP Smart Zero Core)
Warranty
HP Total Care Warranty and Services offers limited three-year hardware warranty options depending on country. Optional HP Care Packs extend your protection beyond the standard limited warranty. Service levels and response times for HP Care Packs may vary depending on your geographic location. Service starts on date of hardware purchase.
Pricing Notes:
Pricing and product availability subject to change without notice.
HP Systems Products
HP t730 Thin Clients
HP t730 Thin Client - 4GB/16FL TP TAA
#4RU47UT#ABA
Our Price: $585.00
HP t730 Thin Client - 4GB/16FL TP
#4RU50UT#ABA
Our Price: $587.00
HP t730 Thin Client - W10 8GR
#4FH40UT#ABA
Our Price: $741.00
HP t730 Thin Client - 8GB/64FL W7P
#4FH58UT#ABA
Our Price: $741.00
HP t730 Thin Client - 8GB/64FL W10
#4FH34UT#ABA
Our Price: $739.00
HP t730 Thin Client - 8GB/16FL TP
#4FH67UT#ABA
Our Price: $741.00
HP t730 Thin Client - 8GB/64FL W10
#4RU24UT#ABA
Our Price: $794.41
HP t730 Thin Client - 8GB/64FL W W7P
#4TE14UT#ABA
Our Price: $759.00