HP t630 Thin Client

Windows 10 IoT Enterprise for Thin Clients 64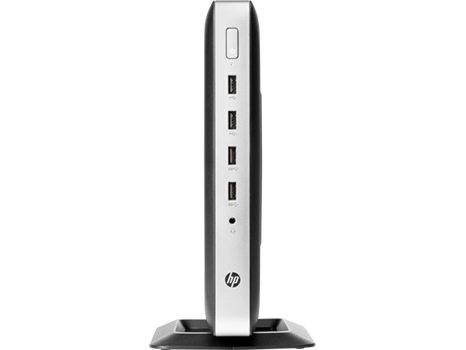 HP Systems Products
HP t630 Thin Client
HP t630 Thin Client - 4GB/16FL SMART ZERO BROWN FALCON
#3BG78UT#ABA
Our Price: $470.00
HP t630 Thin Client - 4GB/16FL THIN PRO AMD BRWN FALCON
#3BG79UT#ABA
Our Price: $470.00
HP t630 Thin Client - 4GB/16FL SMART ZERO BROWN FALCON
#3BG71UT#ABA
Our Price: $488.00
HP t630 Thin Client - 4GB/16FL THIN PRO BROWN FALCON
#3BG74UT#ABA
Our Price: $488.00
HP t630 Thin Client - 4GB/16FL WES7E 32BIT BROWN FALCON
#3BG77UT#ABA
Our Price: $542.00
Overview:
Optimize your cloud-based deployments with the powerful, highly configurable, and long lifecycle HP t630 Thin Client. Support your business now and in the future with quad-core processing, dual UHD/4K display compatibility, and options for device and network connectivity and local storage.
Windows 10 IoT Enterprise for Thin Clients 64
AMD GX-420GI SoC with Radeon™ R6E graphics (2 GHz up to 2.2 GHz, 2 MB cache, 4 cores)
8 GB DDR4L-2400 SDRAM (2 x 4 GB)
Features:
Designed to go above and beyond
Speed performance with an expertly engineered thin client driven by an embedded x86 quad-core1 system-on-a-chip. The integrated AMD Radeon graphics engine supports up to two UHD/4K displays2 for a fantastic media experience.
Bridge the gap with expansive connectivity
Configure a precise deployment with legacy ports for your reliable peripherals, dual-channel DDR4 system memory, wired or optional wireless or fiber connectivity2, and optional local dual flash memory2 up to 128 GB for separate, discrete storage.
Software with allthe extras, minus the extra cost
Tailor your OS environment, remotely set up and deploy, boost Wi-Fi and network performance, and get local-quality multimedia on the cloud with exclusive HP value-added software: HP Device Manager, HP Velocity, HP True Graphics, and HP Easy Shell.
Featuring
Keep the peripherals you know and trust and plan ahead with connections that include PS/2 and serial ports, an optional VGA output or second serial port, and convenient front and rear USB 3.0 and USB 2.0 ports.
Protect data with VDI and cloud hosting, certified TPM, a BIOS designed to National Institute of Standards and Technology (NIST) specs, and Windows with Write Filter protection.
Stay in contact with colleagues with support for unified communications (UC) solutions.
Go wired with standard RJ-45, wireless with an optional Wi-Fi/Bluetooth or external Wi-Fi antenna system, or connect to fiber with an optional Fiber Optic network adapter.
Work with your choice of subscription-based SaaS solutions like Office 365.
Pick a familiar and reliable Windows or Linux OS and pair with your own ISV.
Help decrease power consumption, cooling requirements, and distractions with a zero noise, low halogen6 design with HP Active Thermal Management.
Rest easy with a two-year lifecycle, three-year limited warranty, and HP Care service options
Specifications:
HP t630 Thin Client Specifications
Operating system
Windows 10 IoT Enterprise for Thin Clients
Windows Embedded Standard 7E
HP ThinPro
HP Smart Zero Core
Processor
AMD GX-420GI SoC with Radeon™ R7E graphics (2 GHz up to 2.2 GHz, 2 MB cache, 4 cores)
Storage
up to 8, 16, 32, 64 or 128 GB MLC flash memory
Maximum Memory
up to 32 GB DDR4-1866 SDRAM
(Up to 1 GB system memory reserved for graphics. Transfer rates up to 1866 MT/s.)
Memory slots
2 SODIMM
Networking
LAN Realtek GbE
WLAN Intel Dual Band Wireless-AC 3168 Wi-Fi/Bluetooth combo adapter (optional); Intel Dual Band Wireless AC 8260 Wi-Fi/Bluetooth combo adapter (optional); Allied Telesis AT-27M2/SC Fiber Fast Ethernet Network Interface (optional); Allied Telesis AT-29M2/SC Fiber Gigabit Ethernet Network Interface (optional); Allied Telesis AT-29M2/LC Fiber Gigabit Ethernet Network Interface (optional)
Audio
Internal amplified speaker system for basic audio playback. 3.5 mm headset socket (front access); 3.5 mm combo line-in/line-out socket (back access)
Display Support
Up to 2 displays supported. Support for 2 displays at 3840 x 2160 resolution via DisplayPort™ 1.2 outputs. Support for 1 display at 1920 x 1200 resolution via optional VGA output.
Input Devices
HP USB Optical Mouse
Security
Security lock slot (cable sold separately); Power cord retention clip; Internal SuperSpeed USB 3.0 port; Trusted Platform Module
Power
65 W external power adapter, worldwide auto-sensing, 100-240 VAC, 50-60 Hz, energy-saving automatic power-down, surge-tolerant
Environmental
Low halogen
Energy Efficiency Compliance
ENERGY STAR certified and EPEAT Gold registered configurations available
Input/Output
Front 2 Hi-Speed USB 2.0; 2 SuperSpeed USB 3.0; 1 headset
Back 2 Hi-Speed USB 2.0; 1 RJ-45; 2 DisplayPort™ 1.2; 1 audio line-in/line-out; 1 serial; 2 PS/2 (keyboard and mouse)
Inside chassis 1 SuperSpeed USB 3.0
(One port on back of system available for either VGA or 2nd serial or fiber optic NIC or external Wi-Fi antenna)
Dimensions (W x D x H)
4.72 x 8.66 x 9.88 in
12 x 22 x 25.1 cm
(Vertical orientation with stand)
Weight
3.35 lb
1.52 kg
(With stand. Weight varies by configuration.)
Software
HP Device Manager; HP ThinUpdate; HP Easy Tools; HP Smart Zero Client Services; Microsoft SCCM/EDM Agent; HP Velocity; HP Easy Shell
Protocols
Citrix ICA/HDX; Microsoft RFX/RDP; VMware Horizon View™ through RDP/PCoIP, and Blast Extreme (Protocols are dependent on operating system installed)
Browser
Microsoft Internet Explorer 11 (for models with Windows Embedded Standard 7E and Windows 10 IoT for Thin Clients); Mozilla Firefox 36 (for models with HP Thin Pro and HP Smart Zero Core)
Warranty
HP Total Care Warranty and Services offers limited three-year hardware warranty options depending on country. Optional HP Care Packs extend your protection beyond the standard limited warranty. Service levels and response times for HP Care Packs may vary depending on your geographic location. Service starts on date of hardware purchase.
Pricing Notes:
Pricing and product availability subject to change without notice.
HP Systems Products
HP t630 Thin Client
HP t630 Thin Client - 4GB/16FL SMART ZERO BROWN FALCON
#3BG78UT#ABA
Our Price: $470.00
HP t630 Thin Client - 4GB/16FL THIN PRO AMD BRWN FALCON
#3BG79UT#ABA
Our Price: $470.00
HP t630 Thin Client - 4GB/16FL SMART ZERO BROWN FALCON
#3BG71UT#ABA
Our Price: $488.00
HP t630 Thin Client - 4GB/16FL THIN PRO BROWN FALCON
#3BG74UT#ABA
Our Price: $488.00
HP t630 Thin Client - 4GB/16FL WES7E 32BIT BROWN FALCON
#3BG77UT#ABA
Our Price: $542.00
HP t630 Thin Client - 4GB/16FL WES7E 32BIT BROWN FALCON
#3BH02UT#ABA
Our Price: $560.00
HP t630 Thin Client - 8GB/32FL MLC W10 IOTE BRWN FALCON
#2ZV00AT#ABA
Our Price: $587.00
HP t630 Thin Client - 8GB/32FL MLC W10 IOTE BRWN FALCON
#2ZV01AT#ABA
Our Price: $587.00
HP t630 Thin Client - 8GB/128FL W10 IOT AMD BROWN FALCON
#3BG75UT#ABA
Our Price: $596.00
HP t630 Thin Client - 8GB/128FL WIN10 IOT AMD BROWN TAA
#3KX20UT#ABA
Our Price: $630.00