HP t310 G2 Zero Client

TERA2321 PCoIP Zero Client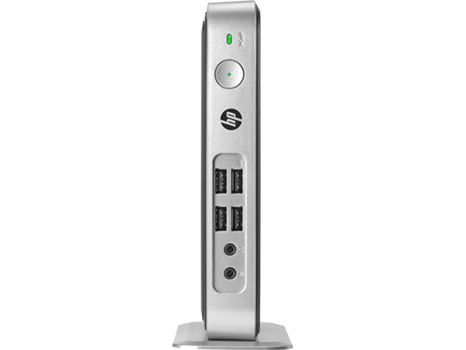 HP Systems Products
HP t310 Zero Clients
HP t310 G2 Zero Client - GBE
#2EZ54AT#ABA
Our Price: $304.00
HP t310 G2 Zero Client - GBE TAA
#2FU10AT#ABA
Our Price: $330.00
HP t310 G2 Zero Client - Fiber
#1MV54UT#ABA
Our Price: $378.00
Overview:
Speed through workloads with the HP t310 G2 Zero Client. Our best performing zero client has the high performance you want and the security you need. Plus, deployment and management are simple, getting all your devices up and running quickly.
TERA2321 PCoIP Zero Client
512 MB DDR3-1333 SDRAM
Features:
The performance and features you need
Reduce lag and finish ahead of deadlines with fast boot and response times, even with 3D applications. Improve productivity by connecting display and accessory add-ons with two additional USB ports and an extra DisplayPort™.
Big security, small footprint
Reduce the risk of your data getting into the wrong hands. With no data stored on the HP t310 G2 Zero Client, your intellectual property stays safe on your secure server. Plus, the device's small size keeps your work area free of distractions.
No hassle set up and management
The HP t310 G2 Zero Client's limited configurations make deployment simple right out of the box and Teradici Management tools make updates and device monitoring a breeze.
Specifications:
HP t310 Thin Client Specifications
Processor
AMD RX-427BB APU with Radeon™ HD 9000 graphics (2.7 GHz up to 3.6 GHz, 4 MB cache, 4 cores)
Storage
8, 16, 32, 64 or 128 GB MLC flash memory
up to 16 or 32 GB UMLC flash memory
System Memory
512 MB DDR3-1333 SDRAM
Hard drive
32 GB MLC flash memory
Networking
10/100/1000 GbE or 100 Mbps fiber NIC; Wake on LAN (WOL) using magic packet
Input/Output
Front: 4 USB 2.0; 1 headphone; 1 microphone
Back: 2 USB 2.0; 1 RJ-45 or 1 Fiber NIC; 1 DVI-I; 1 DisplayPort™; 1 power connector
Audio
Stereo audio output using 1/8-inch mini-jack. Stereo audio input using 1/8-inch microphone mini-jack
Input Devices
HP Wired USB Mouse (standard)
HP Wired USB Keyboard (standard)
Dimensions (W x D x H)
2.56 x 5.41 x 7.37 in
Weight
1.32 lb
Pricing Notes:
Pricing and product availability subject to change without notice.
HP Systems Products
HP t310 Zero Clients
HP t310 G2 Zero Client - GBE
#2EZ54AT#ABA
Our Price: $304.00
HP t310 G2 Zero Client - GBE TAA
#2FU10AT#ABA
Our Price: $330.00
HP t310 G2 Zero Client - Fiber
#1MV54UT#ABA
Our Price: $378.00